Späť
MONITORING PUNCH-LASER COMBINATION MACHINE
Theoretically, ZOOMFAB® can be deployed in almost any manufacturing sector, but our true strength is in the knowledge of the sheetmetal fabrication industry and the flexible production machinery it uses. And when we talk about true flexibility, there is one machine in particular, which is a true champion. It is the punch laser combination machine.
When buying such a machine, most potential buyers raise an objection, that there are basically two machines in one, but only one can work at a time… As laser is an add-on feature, and not a cheap one, if one wants to justify such an investment, it is very important that punch and laser are going to be well utilized.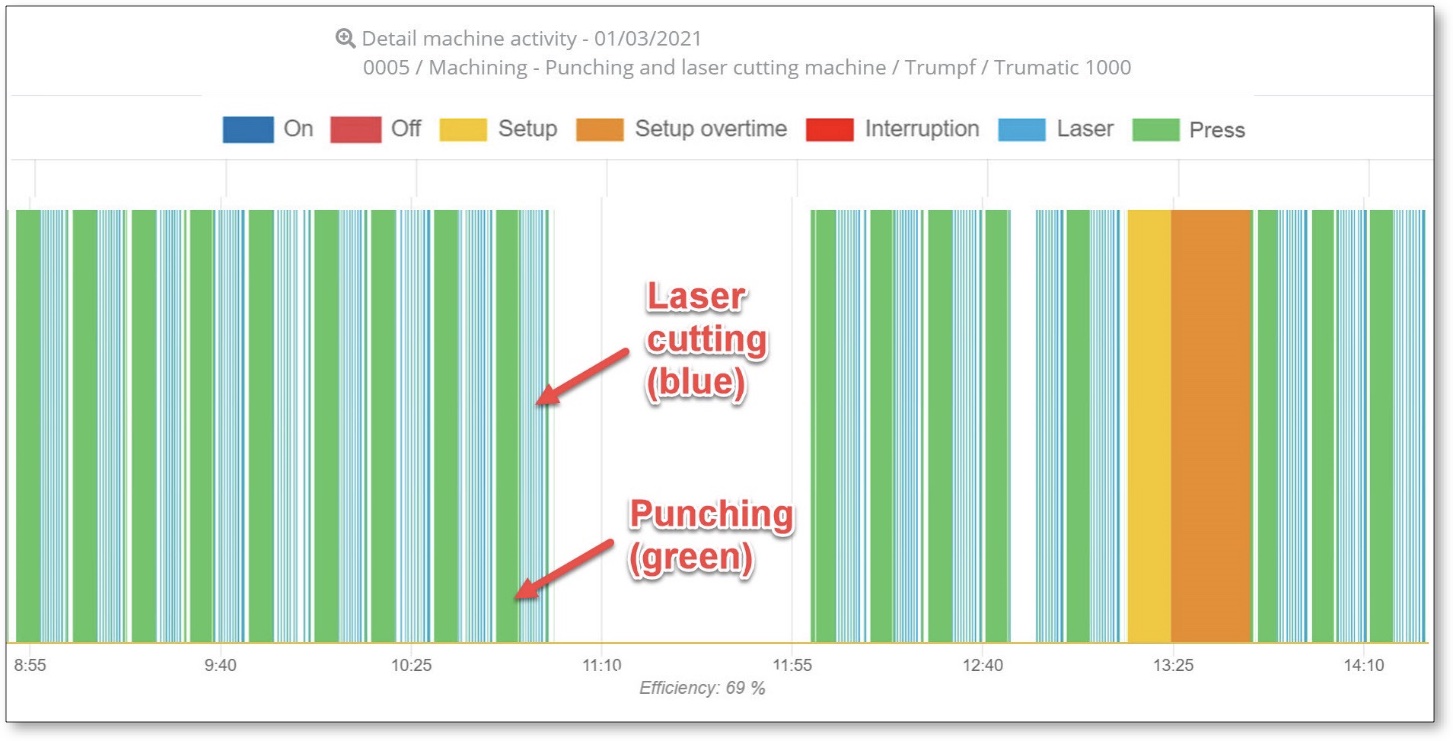 ZOOMFAB® can show you if your investment was justified and if your next machine should be another combination machine or not.
What else can ZOOMFAB® tell you about the machine?
COSTS (up-to-the-minute, daily, weekly, monthly and annual projection)
Electricity consumption in kWh (measured)
Highest measured current in A
Cost of consumed energy
Cutting gas (N2 / O2) consumption in m3 (measured)
Cutting gas (N2 / O2) instant flow rate in m3/h (measured)
Cost of cutting gas
REVENUE (up-to-the-minute, daily, weekly, monthly)
Machine and work centre generated revenue
Machine and work centre generated profit
MACHINE STATUS (in real time and daily, weekly and monthly analytics)
Machine ON
Machine operating
Machine operation interrupted (reason specific)
Machine setup (planned time)
Machine setup (exceeded time)
Machine idle
MACHINE OFF
OTHER INFORMATION
Production efficiency % (real-time)
Machine utilization % against the budget (weekly, monthly, specified period)
Number of setups
Average setup time
Total setup time
Number of exceeded setups
Average exceeded setup time
Number of cycles (bending, riveting, forming, etc.)
Maintenance due date
Calibration due date
Remaining warranty period
Machine purchase price
Machine current value
Remaining loan value
Machine recovery rate
Machine details
Machine purchasing history
Machine repair and maintenance history
Machine document management
Machine note taker
Investing in technology represents for the majority of business owners one of the largest investments in their lives. Taking proper care of their assets should be a priority.
ZOOMFAB® provides users with up-to-the-minute information about their assets, their value, status, how efficiently they perform and how they contribute to revenue and profit. Everything is there at the click of a button…